Vendors
Weekly Newsletter
Thank you for subscription. You'll be getting weekly digest every Friday.
Events
Orlando US
24, Jul — 27, Jul
Grapevine US
25, Jul — 29, Jul
Los Angeles US
28, Jul — 29, Jul
Los Angeles US
28, Jul — 2, Aug
Helsinki FI
1, Aug — 5, Aug
Latest comments
This is beyond awesome! https://applicationfiling.com/
To write an essay on different topics are not quite easy. Every semester, students are given to write essays on varieties of topics, and few of them are not even heard by the students. Now, its not a big issue, as students can have an amazing essay help from the expert writers of myassignmenthelp.com and grab great grades in your exams. https://myassignmenthelp.com/sg/essay-help.html
nice and very informative blog . keep up the good work , if you are looking for short and long term animation course in Delhi join TGC India now
Assembling Scenes With A New Brushify Pack
Joe Garth has shared his latest experiment with assembling example scenes for the new Brushify – Natural Roads pack. Here's a quick timelapse of the artist's progress.
Brushify is a toolset for UE4 that lets artists build levels quickly with the help of ready-made assets and environments. All the sets can be found here.  are available here.
The toolset brings robust shaders, automatic landscape texturing and multiple biomes. "This valuable resource means you can spend more time designing and building your game, instead of modeling these sort of generic environment assets," states the artist.
We also have an interview with Joe Garth about Brushify if you want to learn more:
"Brushify is a next-generation terrain library. It contains high-resolution terrain created from real-world data. Terrain packs are available as modular environment packs for Unreal Engine 4 and source assets are available on Gumroad and Sketchfab. They come with unique 3D mountains that can be used to build 3D landscapes and game levels quickly and effectively."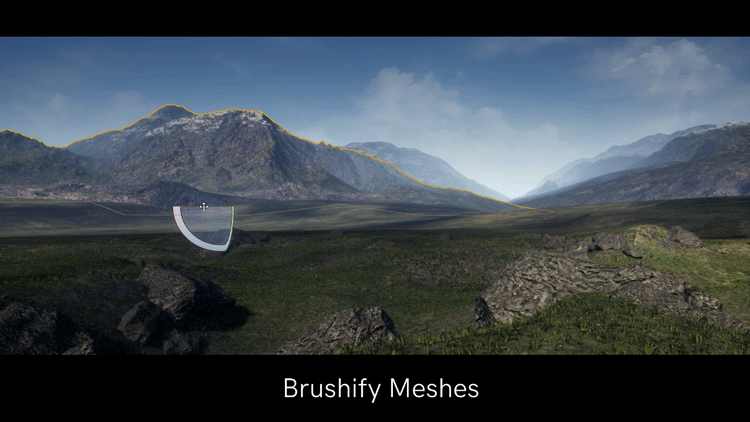 Here is also a guide to generating a 64km² terrain in Unreal using the library:
Landscape Auto Material by VEA Games is a flexible auto-painting material for Unreal Engine 4 Landscape component. When you are drawing the topology of your landscape, proper material layers are drawn automatically!
All future updates are included and will be available for download as soon as they are released.